Small businesses come here to thrive.
The Historic Valley Junction Foundation offers many businesses resources to help make our neighborhood one of the best places in Greater Des Moines for small business. And it's working — we were recently awarded Cityview's "Best Shopping District" in the metro for the second year in a row.
Through our partnership-based approach, we continue to achieve remarkable success. Here's some other information you might want to know:
Over
$8 million
private property
investments completed
in 2022
1.1 million
visits to the Valley Junction Main Street district in 2022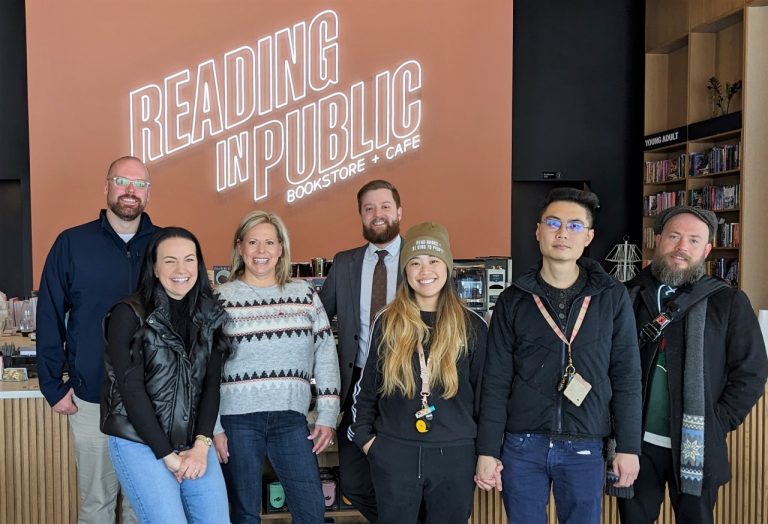 We're more
than a pretty storefront.
Valley Junction is one of the metro's best small business marketplaces, where local leaders organized over 35 years ago to adapt and succeed in changing times. Being here makes you part of the tradition and part of our future.
Supporting Strong Small Businesses
Merchant Meetings
The Historic Valley Junction Foundation Business Improvement Committee helps build collaboration and communication among our merchants. This includes bimonthly merchant meetings, new business welcomes, and targeted support.
Businesses located in our district can contact us to become involved.
Market data
Updated — One of our great advantages is our location right in the center of Greater Des Moines.  About 97,500 people live and work within ten minutes' drive of Valley Junction, with a median household income of $62,370. Our large and diverse group of customers helps a large and diverse group of businesses succeed here.
Check out our 2023 economic profile or contact us for more detailed data.
Improving Our Neighborhood's Appearance
Signage
The City of West Des Moines has amended the Sign Ordinances, with many special provisions for Historic Valley Junction.
Use of the sidewalk
We can help you receive a city permit for uses of the public sidewalk like signage, planters, benches, or outdoor restaurant seating.
Click HERE for the sidewalk encroachment permit application.
Business Information Update Form
Use this form to update your listing or report errors at valleyjunction.com, including contacts, hours, and other information useful to your customers.