The history
of Valley Junction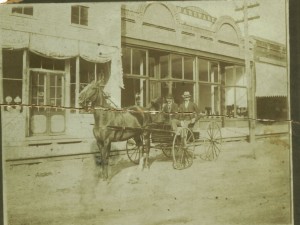 Early Days
To get a true feeling for Historic Valley Junction as it is today, one needs to understand the spirit of the early residents whose vision and unique character left a lasting impression on the area.
It all began in 1846, when James C. Jordan, Valley Junction's first settler, pitched a tent between two oak trees on the western side of the Des Moines border.  An individualist with a strong sense of moral values, Jordan eventually built a house on the site which later became a stop on the "Underground Railroad".  Jordan was also active politically, serving as a county supervisor, and both a state senator and representative. To learn more about James Jordan, the Underground Railroad, and local history, please visit the West Des Moines Historical Society website.
Valley Junction itself experienced significant growth from 1891-1896.  The Chicago, Rock Island and Pacific Railroad moved its East Des Moines roundhouse, switching yards and repair shops to this area which until then had primarily been a community of coal miners.  With the news of the railroad's move into the area, several area businessmen formed the Hawkeye Investment Company and purchased 40 acres of land east of 8th Street and a "downtown" was born.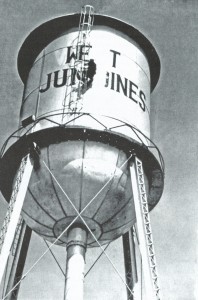 HVJF Founding
Formed in 1986, the group formerly known as VJ87 eventually morphed into what is today the Historic Valley Junction Foundation Board of Directors. The Main Street Approach® was chosen because the original HVJF Board of Directors (VJ87) felt that the program (managed by the National Main Street Center) would help to improve the image, physical appearance and business climate of Valley Junction.  The original HVJF Board of  Directors also hoped that adopting the Main Street Approach® would aid in enhancing the identity of Valley Junction as an architecturally and historically valuable place; thereby, increasing preservation and renovation activities.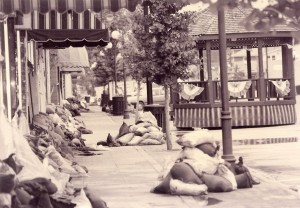 West Des Moines' Only Downtown
Valley West Mall opened nearby in the mid-1970s which proved to significantly contribute to the economic decline of Valley Junction.  This was actually a blessing in disguise as it prompted our community to begin its revitalization efforts, as merchants bonded over the perceived crisis.  The ruinous flood of 1993 also proved to be a motivator as our district was again challenged and reminded to revitalize, improve, and continue to grow. Jordan Creek Town Center opened in 2004 and again, Valley Junction endured in the face of adversity.
Since 1987, HVJF Foundation business improvement and promotions committees have partnered to take Historic Valley Junction from a district with a handful of events annually to over 65 annual event days; including our signature weekly farmers market and concert series, held from May through September.
Historic Valley Junction remains West Des Moines' one and only downtown!
Milestones
1987: Designated as a Main Street Iowa community
1987-2019: Received over 40 Main Street Iowa Awards
1993: West Des Moines 100th Anniversary
1993: Devastating flood, 100% businesses closed, buildings had from 6 inches to 6 feet of water
1993: President Clinton visits Historic Valley Junction in the midst of flood recovery
2006: Designated as an Iowa Cultural and Entertainment District
2007: Designated as an Iowa Great Place
2011: Co-hosted the National Main Streets Conference and host of FUNction in the Junction with 1,500 attendees
2011: Reopened fully restored Historic City Hall to the public; Governor Branstad attends, speaks and cuts ribbon
2012: Received Preservation Iowa Design Award for Historic City Hall
2012: Received Environmental Impact Award for Historic City Hall
2012: Received Great American Main Street Award (GAMSA), the highest National Main Street Center honor
2013: Received LEED Platinum Designation for Historic City Hall
2013: Hosted approximately 30,000 RAGBRAI riders for Totally Tubular Tuesday
2015:  Hosted the Iowa Downtown Summit.
2016: Work completed on the Historic West Des Moines Master Plan
2017: Valley Junction Commercial Historic District listed on the National Register of Historic Places
2017: Historic Valley Junction completes the CoSign project as first Main Street district nationally
2017: Historic Valley Junction awarded $150,000 Partners in Preservation Award to begin Lyric Building renovation
2018: Historic Valley Junction awarded Signature Project of the Year Award by Main Street Iowa
2019: Historic Valley Junction re-designated as Iowa Great Place
2019: Historic Valley Junction re-designated as Iowa Cultural & Entertainment District
2021: Historic West Des Moines Master Plan steering committee appointed and begins work
2022: Design Guidelines approved for the mixed-use commercial district