Getting Here
Valley Junction is compact, level, full of great businesses, and eminently walkable.
We are a quick drive south from the 63rd St. exit on I-235 in Des Moines, heading north on Rte. 28, or heading east on EP True Parkway/Railroad Ave. in West Des Moines.
Valley Junction is about a ten minute drive from the Des Moines International Airport. Look for the arch at Fifth and Railroad, and you'll know you've arrived!
Things To Know
All parking is free and there are plenty of places to park
If you're driving here, please note that Fifth St., which runs up the middle of the commercial district, is one way headed north.
When you're on 5th Street, additional parking can be found by following our directional signs to parking lots off 4th and 6th Streets.
Pedestrian walkways connect the public lots to the activity along Fifth St., and there are public restrooms.
The district is served by two DART bus lines – the Ingersoll/Valley Junction Local Route 11 and the West Des Moines Loop Local Route 72. Both routes pick up and drop off at Fifth and Elm, right in the heart of Valley Junction. To improve access to public transit for all residents, adults (65+), persons with disabilities, veterans, middle and high school students within Polk County, and refugees can ride DART at a reduced rate through one of DART's reduced fare programs.
Free public bike parking is available throughout our neighborhood.
For cyclists, the Jordan Creek Trail runs just south of our district. We strongly encourage cycling!
A comprehensive parking study of the district was undertaken as part of the Historic West Des Moines Master Plan to examine capacity, availability, and projected needs. You can read it here.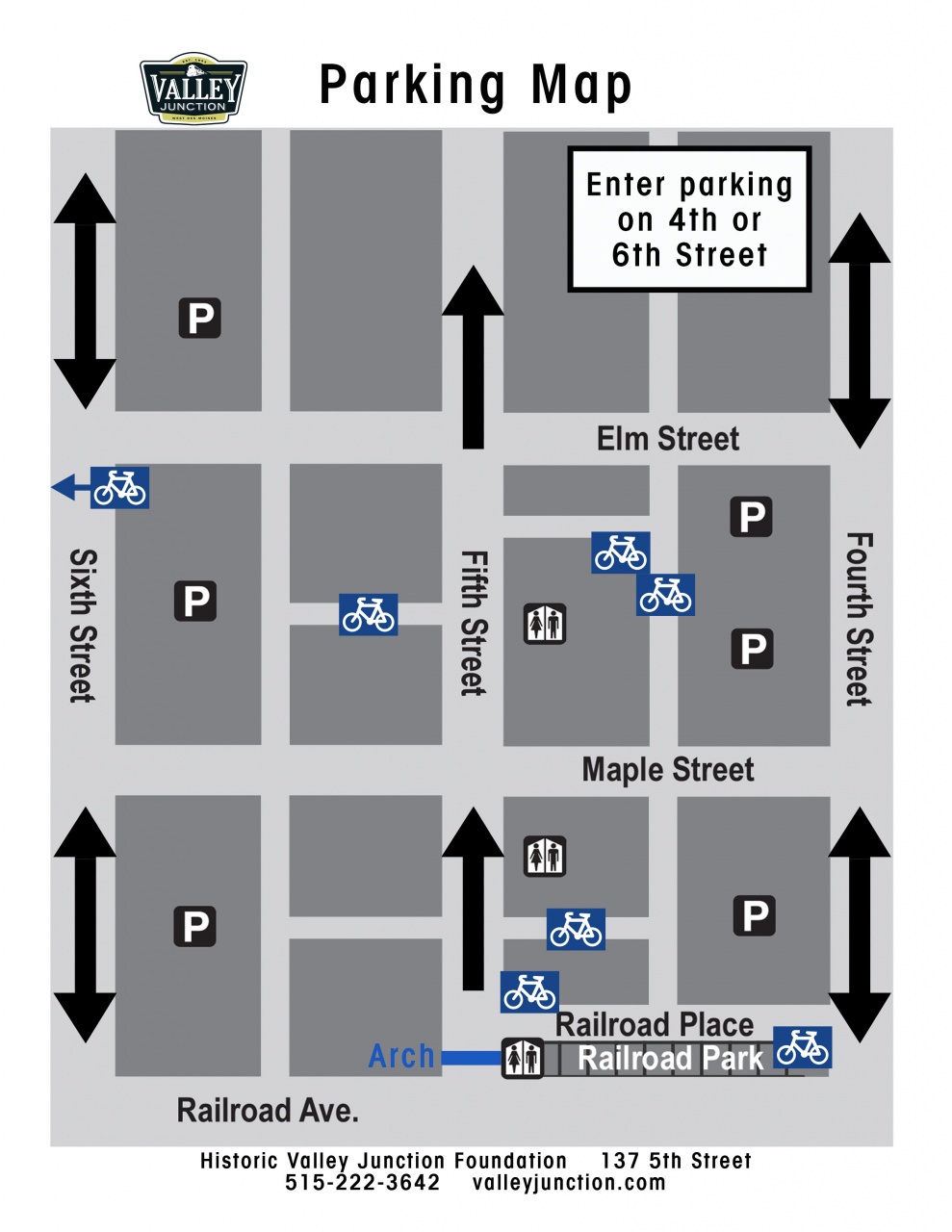 Neighborhood Amenities
Our neighborhood map shows many amenities to make your visit more pleasant. Weekdays and during special events, staff at the Historic Valley Junction Foundation office, 137 5th Street, are available to assist you.