Our mission
Historic Valley Junction Foundation (HVJF) is a 501(c)3 non-profit organization, with an emphasis on historic preservation, economic development, and business growth. HVJF offers cooperative advertising, training, technical assistance, design services, and trash collection for Valley Junction merchants.
The Historic Valley Junction Foundation guides the evolution of the original Valley Junction district in West Des Moines, Iowa by preserving and honoring our historic character, supporting small businesses, and connecting the community. We are an independent nonprofit organization with a small staff and many dedicated volunteers. As an accredited Main Street America program, we are dedicated to revitalizing Valley Junction through events, beautification, property improvements, marketing, and more. We work with and for all the stakeholders who have an interest in strengthening the Historic Valley Junction commercial district.
Our organization was incorporated in 1987, shortly after being accepted as a Main Street Iowa community.
Go HERE to read our annual report, meeting minutes, bylaws, 990, and e-newsletters.
You can donate to the Historic Valley Junction Foundation by using the PayPal link below.

Contact Information
Phone: (515) 222-3642
Our office is located at Historic City Hall in Valley Junction:
Historic Valley Junction Foundation
137 5th Street
West Des Moines, IA 50265
The Valley Junction Welcome Center and public restrooms are also located in our office.
Our business hours are Monday – Friday from 9 AM – 5 PM, as well as evenings and weekends during our community special events.

We have been a proud Main Street Iowa program since 1987, using the Four Point Approach (c) to historic commercial district revitalization. The Historic Valley Junction Foundation is accredited annually by Main Street Iowa for Main Street America. We encourage you to learn more!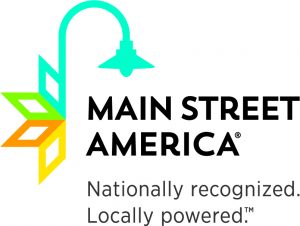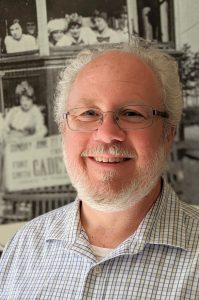 Steve Frevert
Executive Director
Steve grew up in the Chicago suburbs in decidedly non-historic surroundings. He attended college in Beloit, WI and lived there for a number of years afterwards, getting involved in several historic preservation groups while working as a retail manager and newspaper correspondent. Moving to Chicago, he worked at the Frank Lloyd Wright Home & Studio and wrote for the Chicago Tribune before becoming a stay at home dad of twins. In Burlington, IA, he volunteered with the Main Street program for five years, then served 12 years as director. During that time, he was also active in several other nonprofit organizations and chaired the city's preservation commission. He and his wife Rhonda have adult children Aleksandr and Katie. His passions include music, reading, photography, gardening, and anything having to do with old buildings.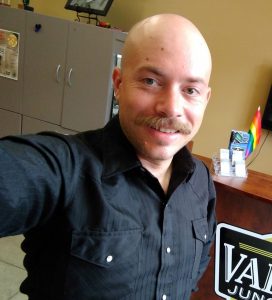 Larry Kaster
Event and Marketing Manager
Larry grew up in Ames and graduated from Ames High School in 2000. After high school, Larry lived in Nashville, Tennessee and Tulsa, Oklahoma before returning to central Iowa in 2010. He worked in events around the United States before attending Iowa State University, graduating with an Events Management degree in 2019. He currently lives in East Des Moines with his wife, Shannon, and two boys, Von and Asa. His passions are music, food, comics, hiking, and biking.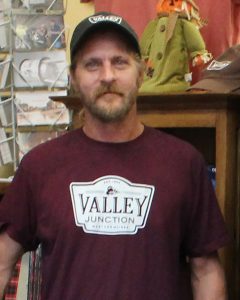 Jon Bouma
Venue Coordinator
Jon is a Historic Valley Junction native, attended Valley High School and was a volunteer firefighter for West Des Moines for three years while learning how to become a brick mason. Jon now owns his own business, Bones Masonry Construction. Jon was a volunteer for Historic Valley Junction for 11 years before accepting a part-time position as Venue Manager in 2014.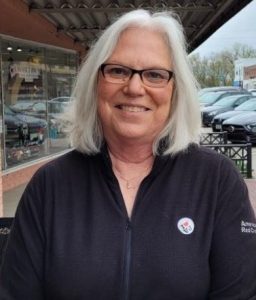 Bobbie Bishop
Office Assistant
 Bobbie grew up in Norwalk and is a graduate of Iowa State University. Having a passion for the work of non-profit organizations, she held communications positions at Iowa State University, the Iowa Department of Economic Development's Iowa Community Betterment Program, the American Heart Association, and most recently with the American Red Cross, where her career spanned over 36 years. She currently is a member of the West Des Moines Community Education Advisory Council and volunteers for other causes within the community. Bobbie has lived in the Valley Junction area since the mid '90s and is a proud Valley Junction homeowner.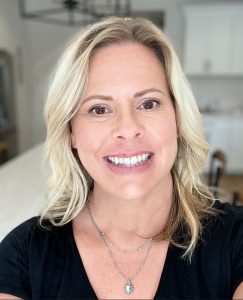 Stephanie Trannel
President, 1st term expires December 2024
Steph grew up on a farm in the southwest Iowa community of Atlantic, where most of her family still lives. She owns Red House Remodeling, one of the area's largest design-build remodelers, which she founded with her husband Ben Trannel, in 2009. Stephanie has enjoyed Historic Valley Junction from the outside, as a visitor, shopper and diner. In 2017, she relocated her remodeling business to HVJ after extensively remodeling a property in 400 block of 5th Street. Stephanie is excited to contribute to the development of the area as an insider and is an enthusiastic supporter of the small-business-owners who make HVJ so special. Stephanie has volunteered extensively in the West Des Moines school district and currently serves as the Co-President of Valley High School's parent group. She is a member of the Remodeler's Council of Greater Des Moines and participates in the annual Tour of Remodeled Homes. Stephanie and Ben have three teenagers who are students at Valley High School. She has a BA in marketing from Buena Vista University and an MBA from the University of Iowa.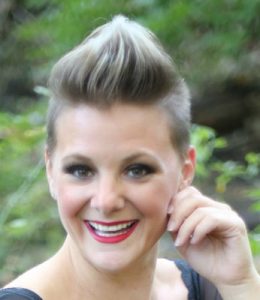 Felicia Coe
Vice President, 1st term expires December 2023
Felicia established and operated Iowa's first aerial teaching program in 2012, making her the state's first aerial coach and a pioneer of the Iowa aerial community. She has produced countless shows and events since moving back to Iowa with a focus on creating performance opportunities for amateur and up-and-coming performing artists. Iowa Fly Girl's determination and unique performance style has landed her on the cover of Juice Magazine​ and The Des Moines Register​, featured on IPR, WHO 13, KCWI, and Iowa Graph Magazine, and awarded as Des Moines Best Artists in 2014 by Cityview Magazine​! Iowa Fly Girl is the creator and producer of the Aerial Expo​, Head Coach at Cirque Wonderland​, and the co-producer of the Misfit Cabaret.​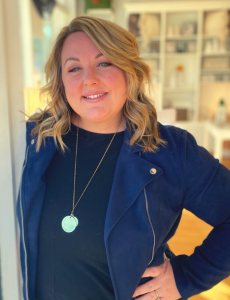 Meredith Wells
Past President, 1st term expires December 2023
Meredith grew up in West Des Moines and is a proud Valley High School graduate. She attended Iowa State University where she held many leadership positions and graduated with a degree in Apparel Merchandising with an emphasis on marketing, consumer behavior, and entrepreneurship. Having many years of professional experience in retail management, visual merchandising, buying, marketing, and event planning, she also served as a board member for two non-profit organizations. In 2013 Meredith and her mother opened their store, MoMere, in Historic Valley Junction in a 500 square foot location and have grown it to a two-story 4,000 square foot space offering home décor, gifts, women's clothing, children's clothing, men's gifts, and accessories. As a fourth-generation small business owner, Meredith is passionate about supporting our local community and the businesses in it. When she isn't devoting her time to MoMere, Historic Valley Junction, or chairing the Historic West Des Moines Master Plan Update Steering Committee, she enjoys spending time with her husband, Nick, and their daughter, Edie.
Jason Keigley
 Treasurer, 1st term expires December 2023
Jason grew up on a small farm outside of Ames and graduated from Boone High School. He started his banking career as a teller while going to school at DMACC. After moving to West Des Moines, he left the banking industry and managed several retail locations. He returned to banking in 2017 by accepting the Branch Manager position at First National Bank in Valley Junction. He frequently volunteers in the community and graduated from the West Des Moines Leadership Academy in 2019. In his free time, Jason enjoys the outdoors, camping, and wrenching on his car collection.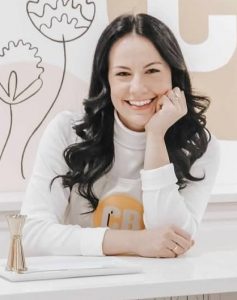 Chloe Bratvold
Secretary, 1st term expires December 2024
Chloe grew up in Eagle Grove, IA and graduated from Kirkwood Community College with a Culinary Arts Degree. After a few years in the food & beverage industry she opened Candle Bar DSM at age 26. Chloe has a passion for being integrated in the community she works in and is eager to support the future vision of Valley Junction. When she isn't creating custom candles and mingling with others on 5th Street, she spends her time as a member of the promotions committee for Historic Valley Junction, while also enjoying her new daughter with husband Tim.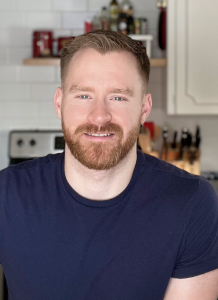 Mitchell Callahan
Director, 1st term expires December 2024
Mitchell hails from Cape Cod, Massachusetts — however, if you ask him where he grew up, he will tell you Neenah, Wisconsin. There's a smattering of cities in between those, but in Iowa he has lived in Ames, the Quad Cities, Dubuque, Des Moines proper, and now Historic West Des Moines. Education brought him to the state of Iowa, where he attended Iowa State University to receive a bachelor's degree in Industrial Design. He started his career here via an internship with John Deere, where he continues to work as a User Experience Design Lead. In 2019, Valley Junction earned its place in his memories as his first home purchase, and it's been an adventure ever since he got the keys. He wants to help strengthen the connection between the Foundation and residents in the surrounding neighborhood by bringing his skills in project communication and organization to the table, along with a growing network of new and established residents.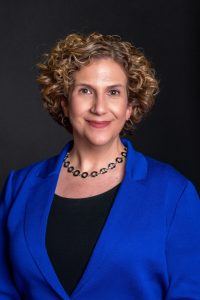 Senator Claire Celsi
Director, 1st term expires December 2024
Claire was born in Des Moines and has lived in West Des Moines twice. From 1988-2001, she lived in Valley Junction — first in an apartment on 12th St, then on 5th St., where she had a home childcare business for seven years. During those years, Claire's kids attended Clegg Park Elementary, which later merged into Hillside Elementary. She served two terms as PTO President at Clegg Park. After moving to Des Moines for a few years, she moved back to West Des Moines in 2012. As a marketing professional, Celsi worked for the Iowa Tourism office and the Iowa Economic Development Authority. Celsi served for five years on the board of Iowa Great Places, including when Valley Junction was designated as an Iowa Great Place. Celsi started a solo PR and marketing business in 2009. Claire is a graduate of the West Des Moines Leadership Academy and a former member of the Booster Pak Board of Directors. She is now a State Senator representing Valley Junction, West Des Moines, the west side of Des Moines and the small town of Cumming in Warren County. She is a graduate of Dowling Catholic High School and Drake University.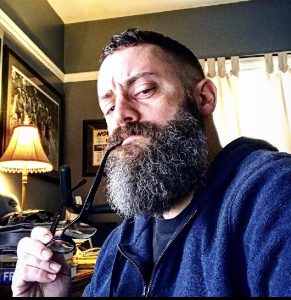 Ryan Cooper
Director, 1st term expires December 2023
Ryan grew up in the Beaverdale and Urbandale area, starting a passion of cooking in his grandmother's kitchen at a young age. He has worked in the food and beverage industry for 30 years, beginning as a dishwasher at age 15 and working every job imaginable. At 35 he opened his first restaurant, Cooper's on 5th, which led to his offspring businesses The Winchester Public House and the Blind Pig Cocktail Bodega — all located in Valley Junction, as well as a residence. He works to show his great pride in his businesses as well as the neighborhood that supports him. When the restaurant business ultimately does him in, he will be survived by his wife Kara and daughter Kate. Until then, you will see him busy around the street working.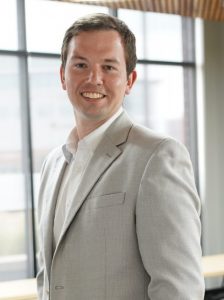 Tom Florian
Director, 1st term expires December 2024
Tom is a transplant from Chicagoland who fell in love with West Des Moines. A two-time Drake University graduate, he now serves as the Senior Director of Membership & Strategic Marketing for the West Des Moines Chamber of Commerce and is committed to strengthening the West Des Moines business community. Divergent from his suburban Chicago roots, he appreciates the small town, yet urban feel of WDM and the ability to actively support independent, local businesses and entrepreneurs on a regular basis. Outside of his professional responsibilities, Tom serves as Chair of the Drake University Central Iowa Regional Alumni Board of Directors and is a member of the JDRF Greater Iowa Board of Directors and Dream Team Des Moines Leadership Team. He and his wife Sarah (a West Des Moines native) also sing in a variety of choral ensembles throughout central Iowa.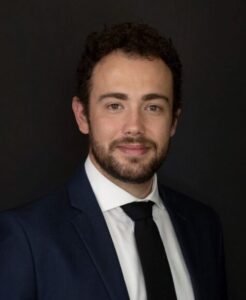 Trevor Jordison
Director, 1st term expires December 2025
Trevor is a transplant from Bend, Oregon who now lives on historic 5th Street in Valley Junction.  Trevor comes from a long line of Iowans (and Valley Junction lovers).  In fact, Valley Junction was the first place he visited in Iowa.  After graduating with a bachelor's degree from the University of Oregon, Trevor made the move to Iowa to attend Drake University Law School.  When deciding where to live, the decision was an easy one… Valley Junction.  Trevor is now an attorney with the Mallory Law Firm in West Des Moines and represents small business and individuals in construction litigation, real estate, and general business matters.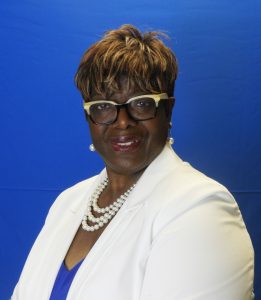 Dr. Vicky Long Hill
Director, 1st term expires December 2025
Vicky comes from a long line of Valley Junction residents, graduated from Valley High School and is a proud Valley Junction homeowner. She received an associate's degree from Des Moines Area Community College, a bachelor's degree from Drake University, and continued her education at the University of Iowa where she earned a Juris Doctor Degree. Vicky has served in many capacities with the State of Iowa and the City of Des Moines. Positions have included: State of Iowa Attorney General's Office – Division of Civil Rights; Estate and Gift Tax Attorney – U.S Department of Treasury; Assistant City Attorney – City of Des Moines; and an Adjunct Professor at both William Penn University and Des Moines Area Community College. Since 1998, Vicky has served as the Executive Director of the Eddie Davis Community Center, located in Historic Valley Junction. Vicky has been an advocate for human rights her entire adult life and has many professional affiliations, some of which include Iowa and National Bar Associations, Iowa League of Municipals Attorneys and the African American Leadership Coalition. She has also received numerous awards recognizing her for community service. Vicky is the mother of four children.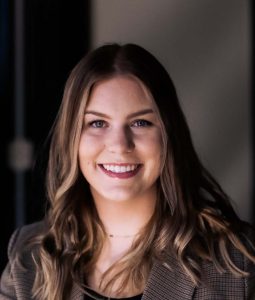 Savannah Minnick
Director, 1st term expires December 2025
Savannah grew up in St. Paul, Minnesota, and moved to Ames in 2016 to attend Iowa State University. After graduating in 2020 with a bachelor's degree in Marketing she moved to Des Moines and fell in love with the area. She is now a proud resident of the Valley Junction Neighborhood.
She currently serves as the Director of Communications and Marketing for Community Housing Initiatives, an affordable housing nonprofit. Outside of work, Savannah volunteers as a mentor with Iowa State University Collegiate Women in Business, helping students transition from college to post-graduation. In her free time Savannah enjoys yoga, reading, and experiencing all Valley Junction has to offer.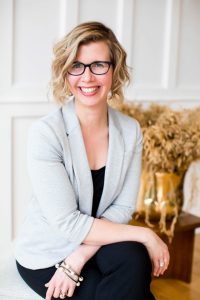 Susan Watts
Director, 1st term expires December 2025
Susan Watts is the owner of Olson-Larsen Galleries, a contemporary gallery and custom frame shop in Historic Valley Junction.  She oversees all operations of the gallery — managing the representation of over 60 regional artists, working with a range of individual and corporate clients, coordinating major commissions, and curating gallery exhibitions. Susan is instrumental in the district's Gallery Night and Art Festival. She currently sits on the Community Support Advocates board of directors and formerly served on the Friends of Des Moines Parks and Artstop boards of directors.  She plays an active role in Project Spaces, an initiative of the Greater Des Moines Public Art Foundation and is an alumni of the Goldman Sachs 10,000 Small Businesses program.
Susan was the gallery manager at Olson-Larsen Galleries from 2003 to 2010, at which time she purchased the business.  Susan came to the gallery after four years with the Salt Lake Art Center in Salt Lake City, where she served as coordinator of education and curatorial assistant.  Susan has also been a freelance arts writer for regional and national publications throughout her career.  She holds a BA with honors in art history and journalism from the University of Iowa.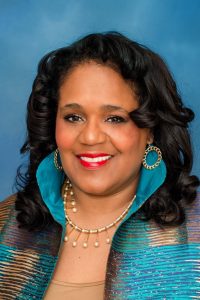 Renee Hardman
City Liaison, Appointed
Renee Hardman serves as Broadlawns Medical Center's first Chief Diversity, Equity and Inclusion Officer and Vice President of Human Resources. She earned her Bachelor's degree and an MBA from Drake University. Ms. Hardman holds a senior professional human resources (SPHR) certification.
In 2017 Renee made history when she was elected as the first African American woman to the West Des Moines City Council in its 125-year history as Member-At-Large.
Ms. Hardman previously served as the CEO of Big Brothers Big Sisters of Central Iowa and as the owner of Hardman Consultant, LLC. In a prior role, she was the Senior Vice President of Human Resources at Bankers Trust. Renee has a lengthy list of community service engagements and honors. A select few include Des Moines University Trustee, Business Record DEI Advisory Committee Member, Tri-Chair of the DSM USA 4 Equity Collective, West Des Moines Human Rights Commissioner (Liaison), past Greater Des Moines Partnership Diversity Committee Member, Advisory Board member for The Robert D. and Billie Ray Center, Polk County Housing Trust Fund, past Board member Dress for Success and the 5th Judicial District Commissioner appointed by the Governor.
She has earned recognition as a community advocate as the Business Record's #5 Most Influential Business Leader. In 2014, she was inducted into the Iowa Women's Hall of Fame and has received numerous awards for her outstanding civic engagement to include but not limited to the Greater Des Moines Leadership Institute's Alumni Volunteer Award, DMU's Diversity Champion Award, Connie Wimer Spirit Award, President Obama's Dr. Martin Luther King, Jr. Drum Major of Service Award, Women of Influence Award, 40 under 40 Alumna of the Year, and West Des Moines Chamber's Diversity, Equity and Inclusion Awardee.
Renee's life passion has been to advance the work of Diversity, Equity, and Inclusion and serve as a role model for young people.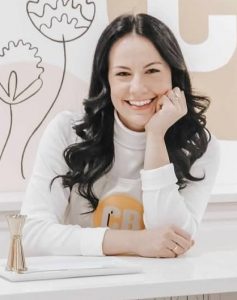 Chloe Bratvold, Chair
Candle Bar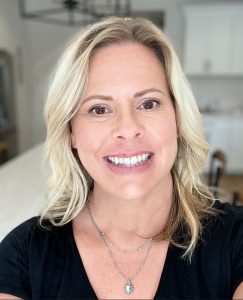 Stephanie Trannel, Chair
Red House Remodeling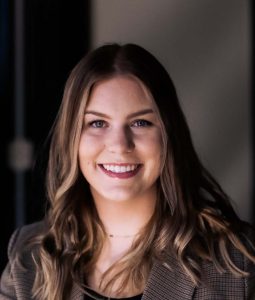 Savannah Minnick, Chair
Community Housing Initiatives