Sponsorship Opportunities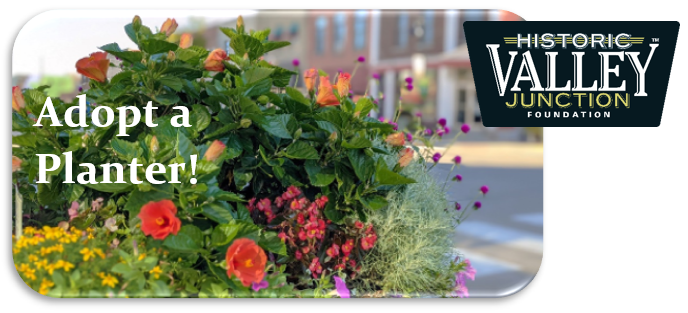 Adopt-A-Planter
Sponsoring a planter is a great way for your business, organization, or family to show support for the district.
A $250 donation sponsors a planter for the year, helping provide summer and holiday plant material and maintenance and supporting other efforts to keep Valley Junction beautiful all year long. The donation is acknowledged with custom signage set inside the planter. Additional planters can be sponsored for $200 each. For more information, contact the HVJF office.
Support our Annual campaign!
The businesses, entities, and individuals who contributed to the Historic Valley Junction Foundation's 2023 annual campaign are shown below. We encourage you to support them; click each logo to follow the link to their site.
We are truly grateful to everyone Standing Together for Valley Junction!
Princess Real Estate Group
High Water Investments, LLC
Quantum Asset Management, LLC
Adopt a Planter supporters
Mitzi's Kitchen & Cocktails
Frank & Janet Hanson, Iowa Realty Company
Kathleen, Michele, Susie, Zachary, Delilah, Molly & Ally Fidler
First National Bank Valley Junction
Langel Chiropractic Clinic, P.C.
Progressive Community Network
Russ & Alana Trimble Family
Russell & Maddie Varieur & Benji